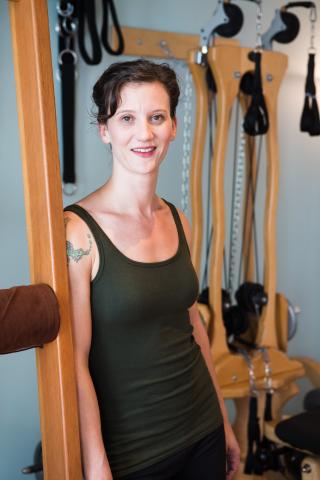 Master Trainer Emma Kingston is certified to teach both the Gyrotonic and Gyrokinesis teacher training programs as well as some of the specialized equipment courses. Emma is also a Licensed Massage Therapist and has a background in dance, Gymnastics and Capoeira (a Brazilian martial art).
Emma melds these influences together into her teaching style and works to bring a balanced perspective between the more technical knowledge of the body in tandem with the fun of movement.
Originally a native to Northern California Emma grew up amongst the redwoods and has an affinity for nature. Having grown up with scoliosis of the spine and foot problems is what inspired her to seek out an integrative system which lead her to find Gyrotonic movement. Emma found San Francisco Gyrotonic where she studied under Authorized Master Trainer Debra Rose. Over the years Emma has continued to work with Debra Rose but spends most of her time when she can working with Juliu Horvath.
After correcting her scoliosis through this system and straightening out her feet, Emma is a firm believer of the effectiveness of Gyrotonic exercise and thinks with the right mind set and determination coupled with the right teacher one can achieve anything one desires in their own body. Emma has developed a special course for teachers in the applications for Gyrotonic to be used specifically on the feet and hands which she is continuing to develop as she brings it to teachers world wide.